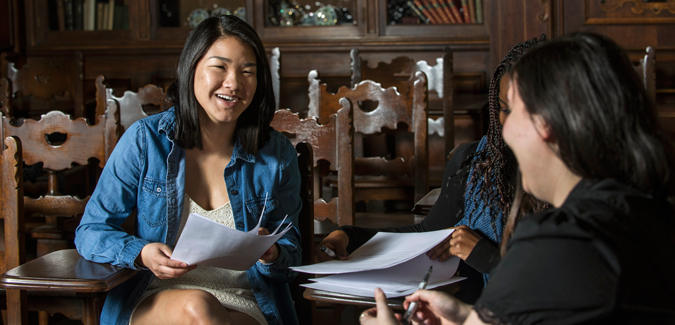 The Dietrich School is a vibrant community of learners, strengthened by the broad range of perspectives, experiences, and interests that makes us unique. We're committed to promoting diversity and the understanding of diversity among our faculty, staff, and students, and across curricula. This commitment is exemplified by innovative and inclusive programs and activities we've developed to raise awareness of—and sensitivity to—the differences and distinctions we use to define and understand ourselves and each other. 
At the Dietrich School, we don't just recognize our diversity—we rely on it, we value it, and we support each other in fulfilling our greatest potential.
Read more about the Dietrich School's commitment to diversity, equity and inclusion and learn about our DEI training series.
Faculty
The Dietrich School Diversity Committee, established in 2013, is currently focusing on strengthening faculty diversity by developing and implementing best practices, procedures, and policies for recruiting, mentoring, and retaining female and underrepresented minority faculty members who reflect the breadth of our student body and society at large.
The Diversity Committee is available to serve as a resource in the following ways:
Consulting with departments on how to enhance their faculty recruitment efforts;
Assisting departments in building and sustaining practices of intellectual and collegial inclusivity and support; and
Providing group or one-on-one training for department chairs on effective faculty mentoring.
For more information on how to engage the Dietrich School Diversity Committee in further developing your department's recruiting, mentoring, and retention activities, please contact us at EDI_Dean@pitt.edu. For more information about faculty leadership opportunities within the Dietrich School, visit the Professional Development section of our Web site. Learn more about our Guidelines for Writing a Statement of Contributions to Diversity, Equity, and Inclusion.
Graduate Students
The Office of Diversity Initiatives in the Graduate Studies Dean's Office is an essential aspect of the Dietrich School's commitment to preparing all of our students for life, learning, and work in our increasingly global world. 
Our role is to serve as a resource to prospective and current students from underrepresented populations, helping to identify opportunities and experiences of particular benefit, with an emphasis on recruiting, mentoring, and retention.
 
For more information on our programs and activities, visit https://www.asgraduate.pitt.edu/diversity/diversity-fellowship-programs or contact Philippa Carter, Manager of Diversity Initiatives, at pkc3@pitt.edu or 412-624-6096
Undergraduate Students
We believe that student achievement inside the classroom requires our investment and involvement in students' lives outside the classroom. The Undergraduate Studies Dean's Office offers a broad array of academic, social, cultural, and career-readiness programs and activities that support and promote the success and well-being of our underrepresented students.
From workshops and seminars with faculty, to peer mentoring and one-on-one tutoring and the BE STEM Center, we have created extensive support structures to ensure that all of our students have access to the resources they need to achieve their highest potential.
For more information on the many ways we're here to serve, visit these links:
Staff
The Dietrich School staff diversity committee is focused on staff diversity issues within the Dietrich School.  We are looking to create an inclusive environment for all staff regardless of race, gender, ethnicity, sexual orientation, nationality, religion, and class.  We want to strengthen diversity endeavors for our staff by giving them opportunities to update their skills and practical knowledge pertaining to issues of diversity.  We want to assist in recruiting a more diverse work force and creating  chances  to experience a wider range of diversity.  The staff diversity committee is an essential aspect of the Dietrich School's commitment to staff diversity in action.  Begun in 2016, the Committee's role is to serve as a resource to prospective and current staff from helping to identify resources, opportunities, and experiences of particular benefit.