Home
Headlines & Highlights
Dietrich School Faculty Member Named Carnegie Library Trustee
Dietrich School faculty member Waverly Duck has been chosen for a three-year term on the Carnegie Library of Pittsburgh's Board of Trustees. Duck is an associate professor in the Department of Sociology whose fields of interest include urban ethnography.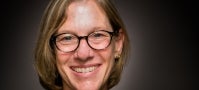 Dietrich School Three-Degree Alumna Ann E. Cudd Elected Pitt Provost
Ann E. Cudd, dean of the College and Graduate School of Arts and Sciences at Boston University, has been named provost and senior vice chancellor at the University of Pittsburgh. She was elected by the University's Board of Trustees at its June 29 annual meeting. Cudd received her PhD in philosophy and master's degrees in economics and philosophy from the Dietrich School and earned a bachelor's degree in mathematics and philosophy at Swarthmore College.