Home
Headlines & Highlights
Nicole Mitchell to Lead Jazz Studies
The Dietrich School has named Nicole M. Mitchell, an award-winning creative flutist, composer, bandleader and educator, as its William S. Dietrich II Endowed Chair in Jazz Studies, effective July 1, 2019. Mitchell also will be the director of the Jazz Studies Program and a professor in the Dietrich School's Department of Music. She becomes the third director in the program's 49-year history, succeeding the late Geri Allen, who passed away in 2017.
Two Dietrich School Faculty Members Receive NSF CAREER Awards
Jennifer Laaser, assistant professor in the Dietrich School's Department of Chemistry, and Roger Mong, assistant professor in the Dietrich School's Department of Physics and Astronomy, are the recipients of NSF CAREER Awards. The Faculty Early Career Development (CAREER) Program is a Foundation-wide activity that offers the National Science Foundation's most prestigious awards in support of early-career faculty who have the potential to serve as academic role models in research and education and to lead advances in the mission of their department or organization.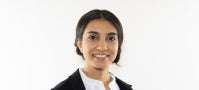 Dietrich School Alumna Named University's First Schwarzman Scholar
Sangya Gyawali (A&S '16), a lead analyst at BNY Mellon, has been named a 2020 Schwarzman scholar. Inspired by the Rhodes scholarship, the prestigious international graduate fellowship supports up to 200 scholars annually pursuing master's degrees at the Schwarzman College at Tsinghua University in Beijing, China's leading science and technology university. Gyawali is the first Schwarzman scholar to come from the University of Pittsburgh.