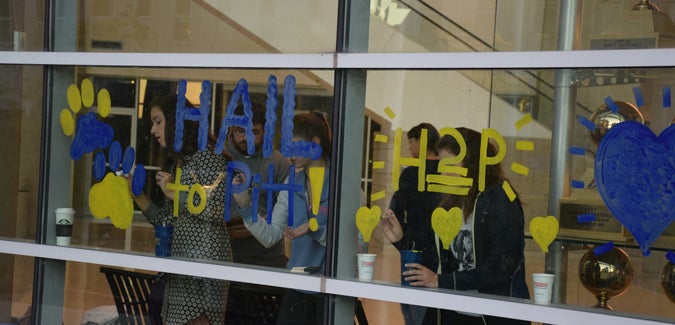 There are several ways to make a gift to the Dietrich School of Arts and Sciences. An annual gift is the most common and simplest way to contribute. If you would like your gift to be allocated in support of a particular department or program, please indicate this on your pledge card by writing or typing "Department/Program of _____" in the OTHER field. Different gifts offer different tax advantages. Please consult your financial advisor to select the best way to give.
Legacy Funds: Give Now, Impact Forever 
What is a Legacy Fund?
A Legacy Fund is an unrestricted named endowed fund that benefits the Dietrich School or a specific department or program. 
What does a Legacy Fund support?
You may designate your fund to be used by the dean for school-wide purposes, or to a particular department or program. Unrestricted funds support student travel to conferences, equipment purchases, graduate and undergraduate research, guest speakers, outreach activities and other needs of the school or department, as determined by the dean or department chair. Because your Legacy Fund is pooled with other discretionary accounts, your unrestricted support has a tremendous impact in addressing immediate needs.
What do I name my Legacy Fund?
You can name your Legacy Fund after yourself (i.e.  Adam Smith Economics Legacy Fund), in honor/memory of others (i.e. the Legacy Fund in honor/memory of Jane Smith), or after a beloved faculty member or friend.
What is the cost to establish a Legacy Fund?
The minimum cost to establish a named endowed Legacy Fund is $10,000. A Legacy Fund can be created through an outright gift, through a pledge payable up to five years (i.e. $2,000 per year), or through a bequest or other deferred method.  
How much expendable income will my Legacy Fund generate?
Endowed funds at Pitt generate income according to a University policy that is intended to ensure that these funds distribute steady income and their principal grows over time.   Only income, calculated according to this policy, is available to be expended.  It is reasonable to anticipate that your Legacy Fund will distribute approximately 4% per year.  A Legacy Fund established for the minimum of $10,000 will produce less than $500 annually, which may not seem to have a substantial impact. However, the cumulative value of discretionary accounts (i.e. other Legacy Funds, department development funds, etc.) creates a critical unrestricted funding source.
Can I utilize my employers matching gift program?
Many employers sponsor matching gift programs and will match any charitable contributions made by their employees.  Contact your company's human resources department or matching gift officer to inquire if you can apply matching gifts to endowed funds.