Welcome Dietrich School Graduates!
As the liberal arts core of the University of Pittsburgh, the Kenneth P. Dietrich School of Arts and Sciences is proud to have more than 90,000 alumni representing 42 academic departments and programs. Among our many distinguished graduates are:
Herbert W. Boyer, who earned MS and PhD degrees in the biological sciences from the Dietrich School and went on to receive numerous national and international awards for his pioneering work in genetic engineering, including both the 1989 National Medal of Technology and the 1990 National Medal of Science;
Michael W. Chabon, who earned his BA in English Writing from the Dietrich School and, among many honors for his works, received the 2001 Pulitzer Prize in Fiction for his novel The Amazing Adventures of Kavalier & Clay;
Paul C. Lauterbur, who earned his PhD in chemistry from the Dietrich School and received the 2003 Nobel Prize in Medicine for his contributions to the development of magnetic resonance imaging;
Wangari Muta Maathai, who earned her MS in the biological sciences from the Dietrich School and was awarded the 2004 Nobel Peace Prize for her environmental and human rights work in her native Kenya; and
Bert W. O'Malley, who earned his BS from the Dietrich School, in addition to his MD from Pitt's School of Medicine, and received the 2007 National Medal of Science in recognition of his work as the "father" of molecular endocrinology.
Pitt Alumni Do Amazing Things
We invite you to explore this site and learn more about opportunities to engage in the life of the school. As a Dietrich School alumnus, you have brought honor and recognition to the school and to the University of Pittsburgh with your outstanding accomplishments. Please view the recent Alumni Updates from Pitt Magazine. New job? Big move? Just married? Don't forget to submit your own Class Note! Your submission may be featured in a future issue of Pitt Magazine.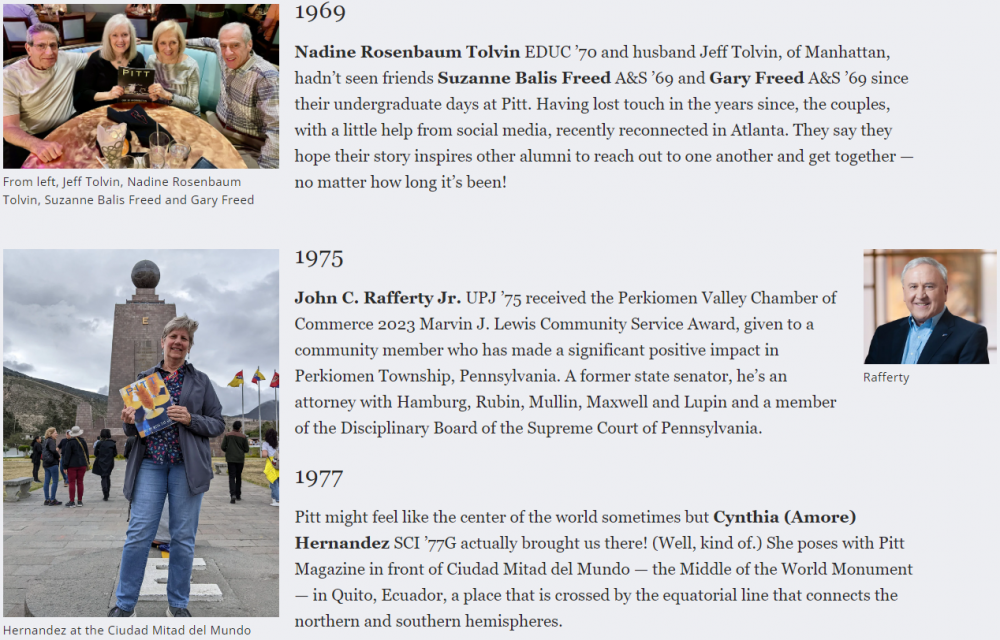 Read more Alumni Updates from Pitt Magazine.
Board of Visitors
The Dietrich School of Arts and Sciences Board of Visitors provides an external perspective and advice to the Dean to advance the Dietrich School's strategic objectives and priorities. Serving as ambassadors and advocates for the Dietrich School, the Board of Visitors is integral in celebrating the Dietrich School and its accomplishments, increasing school visibility and awareness among alumni, prospective students, potential donors, employers, professionals, and other constituencies. The Board of Visitors serves as an advisory resource for Dietrich School students, providing guidance and opportunities for internships, career development, and networking. Their contributions assist the Dietrich School to continually exceed its philanthropic support, benefitting our students, faculty, and staff.
View the Kenneth P. Dietrich School of Arts and Sciences Board of Visitors.
Tell Us About Yourself
Welcome to the online alumni community for the Dietrich School of Arts & Sciences. Here, we'll keep you in touch with your classmates and tell you about all the great things happening at your school. In pursuit of the university's mission of transforming lives through education, we strive to establish relationships, strengthen traditions, and cultivate a lifelong loyalty to the Dietrich School of Arts & Sciences. Please take a moment to tell us more about yourself so that we may share news of your success with the entire Dietrich School community.