Blazing Trails in Transgender History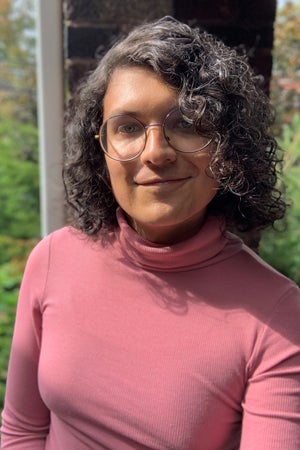 "Transgender studies, as a field located primarily in the humanities, is very young," explains Jules Gill-Peterson, an associate professor of English and Gender, Sexuality, and Women's Studies in the Dietrich School. "Its first major intervention was to interrupt how non-trans people studied us in the medical and social sciences and contest that power imbalance by writing and thinking from our expert positions as trans people."
A passionate and driven scholar, Gill-Peterson's deep love of thinking motivates her to continue to blaze new trails in transgender studies.
"I've always wanted to make sense of the world in its full complexity because of its deep inhospitableness to me, and that is the central drive behind my work as a professor to this day," Gill-Peterson says.
In 2018, Gill-Peterson broke new ground with the book "Histories of the Transgender Child," which she wrote to "loudly denounce and demolish the libel that transgender children did not exist until the 21st century."
"I wanted, in short, to provide a well-researched, airtight case against the dismissals that children can't really be trans, can't know they are trans, or that being trans is somehow trendy, when in fact we know it is an incredibly courageous and dangerous kind of childhood to live through because of the intense anti-trans actions and beliefs of adults," says Gill-Peterson.
Ultimately, Gill-Peterson hopes that the book will help people realize that trans children are not a new kind of person.
"I want us adults to stop questioning 'why' children are trans, or if they are 'really' trans and instead start to celebrate and want that there be trans children in the world," says Gill-Peterson. "You have to learn to want there to be trans women and children, the two most vulnerable groups within trans communities, before we can find any modicum of safety. Until you learn to want us to exist, instead of questioning why we do, you are complicit with the efforts to extinguish us from the face of the earth."
Following the success of her last book, Gill-Peterson has shifted focus to the history of trans do-it-yourself, or DIY. Trans DIY describes how trans people transition, medically and socially, and organize and care for one another outside the realm of institutional medicine and without legal or other forms of support.
"This is actually the way most trans people have and continue to transition and live, yet there is no scholarship on the subject," says Gill-Peterson. This is a common complication of doing research in transgender studies: The field is so new. When researching and writing about the history of trans children, for example, there was a total absence of work on the subject.
Offers Gill-Peterson, "As the only person in my department, and one of two or three at Pitt who works in transgender studies, I had to rely on myself and improvise a lot of my research methods, interpretive practices, and generally be willing to take risks in my thinking, far more than the average humanities professor."
In addition, Gill-Peterson grappled with resisting  the urge to try to "discover" the proof of the existence of trans people or trans identities in the past. This has become a cornerstone of her research approach, "because that drive to know the origin and cause of being trans is a medical one," explains Gill-Peterson. "It has been used to inflict unimaginable harm on trans people historically and continues to be used to attack and limit our lives today. I think of trans history not as the rescue of trans people from the past, but instead a practice of destabilizing the anti-trans present by showing how transness hides in plain sight in history."
Faced with these challenges, Gill-Peterson trained herself to make a careful, strong case for her research, working carefully to "leverage the intense scrutiny and objectifying interest in trans people that has gripped the public in recent years."
"Transgender studies has seen massive growth in the past five years, though this has not come easily or triumphantly," observes Gill-Peterson, noting that while trans people, particularly Black trans activists, have increased in visibility, this visibility should not be equated with progress.
"Black trans people, trans women of color, and poor trans people have experienced firsthand how intense visibility comes instead with backlash, rising rates of violence, and even the denial of the right to exist in the first place. Legislative and political attacks continue to make it more dangerous and vulnerable to be trans, even as important historical figures like Sylvia Rivera and Marsha P. Johnson have become household names. 
"The academic field of transgender studies has to contend with growing and trying to establish itself under such circumstances," Gill-Peterson continues, noting that it remains incredibly difficult for trans people of color to access higher education and academic jobs.
"I am one of only a handful in this country and perhaps one of two, or maybe three, with tenure. There are, as far as I know, no Black trans women with tenure anywhere in the world."
Gill-Peterson's research and the field of transgender studies challenges organizations and institutions to make real, meaningful steps to embrace trans people, especially trans people of color. Gill-Peterson says she will continue to push her research program forward and make meaningful changes, noting the optimism she has gained from working with students.
"I am so impressed and grateful to see how engaged and ready this generation of trans and nonbinary youth are to confront systems of oppression where they live, including at Pitt," Gill-Peterson remarks.
Gill-Peterson she sees herself continuing to do the deep archival and oral history research it takes to tell complex stories about the trans past for many, many years to come.
"All the while, I will continue to use my research to challenge anti-trans institutions, agendas and politics. Trans history is not a mirror through which to see ourselves in the past. It is a tool in our struggle to live and live well in the present."