From academic research to Microsoft: Physics alumna finds fulfillment in industry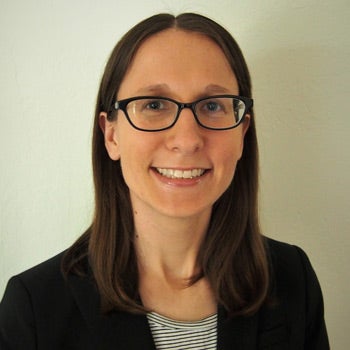 As an undergraduate student studying mathematics and physics at the Dietrich School, Bridget Bertoni was enamored with her studies.
"I was fascinated by how we could use math to understand the world around us," she remembers. This fascination led her to pursue a PhD in physics. Bertoni explains, "I wanted to deepen my understanding in graduate school, and like any good physics student, I aspired to one day discover some new physics." But Bertoni was so busy during graduate school that it was difficult to find time to consider what she would do after graduation.
"However," she says, "once graduation was looming on the horizon, I began to consider other options that might offer me a better work-life balance and more fulfilling work that could impact everyday life. I learned that data analysis and data science were common non-academic career choices for people with physics degrees."
Still unsure of whether she wanted to leave the world of academic research, immediately following graduation, Bertoni took a position as a postdoctoral researcher at Stanford University. During her postdoc, though, Bertoni's priorities became clear to her.
"As a postdoc, I continued to be unsatisfied with my work-life balance and I was not happy with the prospects of continually applying for jobs, jumping from postdoc to postdoc, and not having much control over where I would live and work in the future," she says. Still, making the transition was not an easy decision.
"Of course, it was difficult to leave academia!" Bertoni exclaims. "I had spent years studying, thinking, teaching, and researching physics, losing sleep over subtle details of models for how the world works, so I didn't know what life would be like without physics every day."
But Bertoni made the leap and is currently a delivery data scientist for Microsoft. As a member of Microsoft Consulting Services, Bertoni works with Microsoft customers to "leverage their data to help them pursue their business goals, usually utilizing Microsoft's cloud platform, Azure. We work with customers in a variety of industries," she explains, "anything from healthcare or education to manufacturing or finance." The position requires her to work with customers and a large variety of data types.
"Overall, I feel the work is quite different from physics," says Bertoni. "We work with messier, less-well-understood data, we work in a variety of subject areas, and we interact with customers a lot. However, I also spend a lot of my time programming and thinking about models, which is similar to physics research."
Bertoni's bachelor's degree from Pitt has helped her along the way, she explains. "I rely a lot on the math, statistics and programming skills I developed as an undergraduate—particularly those from calculus, statistical error analysis from physics labs, and the foundational Python skills I learned in a computational physics course I took—which originally I wasn't so interested in, but I'm glad now that it was a requirement. Also, the consistency and sense-checks that I learned from carrying out long physics calculations have proven valuable in creating intelligent code pipelines for data processing and modeling."
Last year, Bertoni returned to her alma mater to talk to physics graduate students about the potential for careers outside of academia.
"I wish I had known more about non-academic career options as a student, and I feel that there is a bit of a culture in physics graduate school that stigmatizes leaving for a position in industry," Bertoni says. "There's a sense that only the people who are good enough at physics can stay in academia or that people 'go over to the dark side' just to make more money. I don't think this is true, and I wanted physics students to know that there is a vast world outside of academia where they can find interesting, challenging and meaningful work that utilizes their skills."
Bertoni also shares that she did not abandon the physics she has always been passionate about. She volunteers as a math and physics tutor at the Boys and Girls Club of the Peninsula. "This way," she says, "I was able to move on from academia but still keep some physics in my life."
Bertoni explains that a career in academia is a great option if it is what you are passionate about, but PhDs can excel and have satisfying careers outside of academia as well. "I feel that during your PhD, when you are surrounded by experts in your field, it's easy to focus on all of the things you don't know and to underestimate all of the useful skills you've built up along the way," whereas in reality you have "spent years learning and creating new research and such self-sufficient, independent thinkers are very valuable both in and out of academia," she says. "PhDs are very employable!"