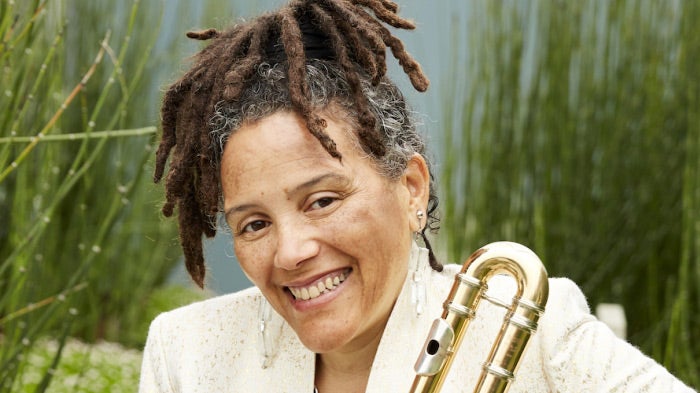 Renowned flutist Nicole Mitchell leads the Jazz Studies Program
Since she was young, Nicole Mitchell has loved the flute.
"The first time I heard it, I just—I immediately wanted to play it," she remembers. "It was like love at first hear, basically."
Mitchell brings her long-lived passion for musical expression to Pitt as the new William S. Dietrich II Endowed Chair in Jazz Studies. Mitchell is also directing the storied Jazz Studies program, which was founded in 1969 by saxophonist Nathan Davis and celebrates a long and respected history. Mitchell will be the program's third director, following the pianist and Dietrich School alumna Geri Allen, who passed away in 2017.
"I think it's, first of all, a very beautiful legacy that's already been built by Nathan Davis, who founded the program and spent 43 years pouring all of his heart and energy and creativity into developing the program," remarks Mitchell. "And then, for Geri Allen to take it into new places for the time that she was here. That legacy—to uphold it, is a lot in itself."
Mitchell brings her own unique passions and skills to the University. A renowned flutist, Mitchell was the 2018 recipient of the Champion of New Music award from the American Composers Forum, and is continuously named Top Jazz Flutist by the Jazz Journalists Association (2010-2018) and the Downbeat Critics Poll (2010-2018). She also served as the first woman president of the Chicago-based Association for the Advancement of Creative Musicians.
Among her many strengths as a leader, instructor, and musician, Mitchell is an expert at improvisation. This style of music incorporates spontaneity and quick reaction, allowing the artist to create work on the spot, converse with other musicians, and convey emotion in an unbounded manner.
"In classical music or in written music, you can be creative but you're dealing with ideas that are already someone else's," explains Mitchell, "but when you're an improviser, you really have the freedom to create your own language through music, to really say what you want to say."
Improvisation has shaped the way Mitchell interacts with music. "From the beginning," Mitchell remembers, "I felt a sense of purpose—of being able to contribute something new to jazz. I felt that that was my purpose. That I have a lot of imagination, and there's something new I can bring."
Indeed, Mitchell's first introduction to jazz highlights her creative spirit.
"The jazz teacher at the college saw me roller-skating around playing Mozart. On roller-skates! And he was like, 'I think you should join the jazz improv class, you just seem to be a creative person here'…" laughs Mitchell. "Roller-skating around playing Mozart! So that's how I was introduced to improvisation."
"And once I was introduced to it," she explains, "it was like a whole other world opened up, and I just jumped in head first. I felt that it was really an opportunity for me to express my full self as an improviser."
Mitchell is excited to bring new ideas to continue to build on the exceptional legacy of the jazz program.
"What I see," she explains, "is how the University of Pittsburgh, being situated in this city that has this amazing jazz legacy on its own merit … I see the program becoming a better resource for the community, in terms of helping to sustain and build the jazz scene here in the city, and supporting innovation. I see that as one aspect of what we're going to be doing."
"We can partner with other really great organizations that are doing that work, like Manchester Craftsmen's Guild," says Mitchell. This organization has educational programs, maintains historical archives,  and hosts top musicians from across the world. Mitchell is happy to be "putting our resources together to really make Pittsburgh a research center for jazz."
During her time in Chicago, Mitchell founded the Black Earth Ensemble, a co-ed, multigenerational group that is "a musical celebration of the African American cultural legacy." This group has been making critically acclaimed music for over 20 years.
"Black Earth Ensemble has always been based in Chicago, I think that that will continue," says Mitchell. "But I am interested in developing a new project here in Pittsburgh that will be based here… I see it as partially a training program, where I work with young musicians, where I have them playing with me and building the scene here organically through doing that. Definitely look forward to hearing more about that soon."
In addition to her ongoing projects. Mitchell is teaching a creative arts ensemble course. This course includes all types of artists, from musicians to filmmakers and spoken-word artists.
"The idea is that everyone creates and finds ways to create together," says Mitchell. "And to build on this idea of interdisciplinary art, where you're not just playing music, you're not just writing poetry, you're not just doing visual art, but how do you bring these things together and have them in some kind of communication."
The Creative Arts Ensemble performed their work at Bellefield Hall on the Pittsburgh campus on December 3.
In another collaboration, the Jazz Studies Program is hosting artists from the We Have Voice collective, a group of musicians who developed a code of conduct in the wake of the #MeToo movement. Mitchell explains, "In the jazz scene, there are a lot of environments that people have to navigate that don't have an HR… if there's a problem, or abuse of power, there's no safety." Different musical organizations can commit to and embrace this code of conduct to support equity.
On January 17, musicians from the We Have Voice collective will be doing a talk on music equity and safer spaces that will be followed by a performance.
It is clear that collaboration is deeply important to Mitchell. Through her ongoing projects and future plans, these collaborative efforts will expand the already-significant impact of the jazz community at Pitt.
"I think it's definitely something for the 21st century," she says. "I think we need more collaboration in general…  and for people to bring their talents together and merge them, so that we can benefit from the diversity of those talents."