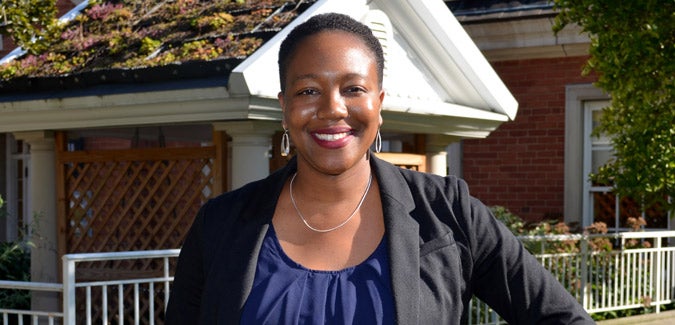 Yolanda Covington-Ward fulfills a prophecy of liberation
When Yolanda Covington-Ward visited the Democratic Republic of Congo in 2005 as a Fulbright scholar, she met people who interpreted her presence there as the fulfillment of a prophecy – and, in a sense, it was.
Covington-Ward arrived in the midst of a religious, political, and cultural movement seeking to restore the nation to a previous era. It was led by a group called Bundu dia Kongo. One of their heroes was Simon Kimbangu, a religious leader who founded a Christian prophetic movement called kingunza or Kimbanguism in the early 1920s. Though Kimbangu died in 1951, his followers believed that African Americans would one day arrive to help liberate the Congo. And there was Covington-Ward, a graduate student from the United States, seemingly fulfilling that prediction.
"I had no idea this was going on," says Covington-Ward, now an associate professor in the Dietrich School's Department of Africana Studies. "I'd talk to people, and they'd say, 'Oh – the prophecy is coming true!'"
But in some ways, the year she spent in the African country represented her own lifelong journey toward liberation. Her odyssey began in a housing project in New York's South Bronx, where she was born the oldest of six children in a family headed by a single mother. In the fifth grade, one of her teachers sparked Covington-Ward's interest in African culture. In middle school, a guidance counselor had the entire class apply to A Better Chance, a program that placed children in prestigious schools they would not otherwise be able to attend. Covington-Ward was accepted, and she was sent to live in a home with six other girls in a wealthy school district in a Philadelphia suburb. Yearning to escape the responsibility of helping to care for her younger siblings, she tasted freedom; but it came at a price.
Though she excelled in high school – both academically and in extracurricular activities, participating in student government, track, and basketball – Covington-Ward could not help but feel a widening disconnect.
"Every time I had to take the train back home and go from the lush suburbs of Philadelphia to the graffiti of the Bronx, it was an eye-opener," she recalls. Her siblings were struggling in overcrowded and underfunded public schools; eventually, three of them would drop out before graduation.
"They were not following the same trajectory. So it was very difficult for me," she says.
And while she was surrounded by mentors and peers at her new school, Covington-Ward felt the stirrings of a longing she hadn't previously known: to learn more about her own culture. She purposely selected African-American writers as the topic of her English assignments, for example.
"I think this was my own response to being in a majority-white environment for the first time ever," she says. In New York, she never saw white children unless she went downtown. But in suburbia, missing her family, she began to explore the ideas that her fifth-grade teacher had first introduced.
She attended Brown University on a full academic scholarship, enrolling in a prestigious eight-year program that included acceptance to medical school. Though she enjoyed biology, she chose the program largely because she thought becoming a doctor would enable her to take care of her family financially. Yet she also continued drifting toward Africana studies, balancing the classes she loved with her pre-med workload.
Her career path changed during her junior year, when she spent a semester at the University of Ghana.
"I think that experience also confirmed for me: if I'm going to do something with my life, this is what I want to do," Covington-Ward says. She discussed her decision with her family, getting their blessing to leave the medical school path — "and I never went back," she says.
She attended graduate school for cultural anthropology at Michigan on a full scholarship, assuming legal guardianship for one of her younger sisters who was struggling in school. Eventually, that sister did graduate from high school in Ann Arbor.
When she applied to Pitt's Department of Africana Studies for a tenure-stream position in 2007, Covington-Ward was impressed by the department's faculty, impressive history, and community engagement, as well as the opportunity to collaborate with so many other programs. She was hired by the department, completed her PhD in 2008, won a post-doctoral fellowship from Michigan, then started teaching at Pitt in 2009.
"The school values interdisciplinary research, which is one of the reasons I was interested in it," she says. "I think the intellectual environment here is very stimulating. I appreciate having students who come from a more diverse economic background, and at different stages in their lives as well."
In 2016, she published a book, Gesture and Power: Religion, Nationalism, and Everyday Performance in Congo, based on studies that began when she was a doctoral student. It was recently awarded the prestigious Elliott P. Skinner Book Award from the Association of Africanist Anthropology.
Covington-Ward's research focused on the way people used their bodies to advocate for social and political change, particularly a type of trembling, believed to be caused by the holy spirit, that was a hallmark of Kimbangu and his followers. The trembling inspired them to leave European missionary churches and found their own. Threatened by this precursor to nationalism, the colonial government arrested thousands of people – men, women, and children – for trembling, including Kimbangu himself.
Another body movement involved a hand clap and genuflection that older people still use when greeting someone; it is a holdover from a form of prayer that rousts ancestors through clapping. Even after returning to the United States, Covington-Ward found herself still using the greeting.
"These are reactions to social marginalization, to oppression in different forms," Covington-Ward explains. "One of the driving narratives throughout most of my research is about identity and culture: how is it that people are remaking their identity through different kinds of ways?"
Already, she has completed research for her next book, focusing on Liberian immigration and identity formation. The project was funded in part by a grant from Pitt's Central Research Development fund as well as Dietrich School research grant. Her goal is to finish the book by the end of 2018, though she acknowledges that this journey, like the others she has pursued, must find its own pace.
"It can't be rushed," she says. "It's a process."