Holger Hoock: Seeing Beyond History's Blind Spots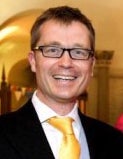 There it was again. Holger Hoock stopped at the small, unassuming stone tablet and ran his hand over the faint letters. He had not expected to see these monuments so frequently. But, as he researched 18th-century art for his book, Empires of the Imagination: Politics, War, and the Arts in the British World, 1750-1850, he kept encountering these memorials to American loyalists in churches and cathedrals across England.
"They ranged from little tablets in obscure places to a substantial marble sarcophagus in Westminster Abbey," Hoock recalls. "But they shared one common feature: They all told stories of American Loyalists being brutally treated—hunted, dispossessed, and, in fear for their lives, driven out of the country."
Hoock, professor of British history at the University of Pittsburgh Dietrich School of Arts and Sciences since 2010, is writing a book inspired in part by these memorials. Scars of Independence: Rethinking Violence in the American Revolution (its working title) will be the first book on the Revolutionary War that utilizes violence as its central analytical category and narrative focus.
"Wondering about the background of those memorials, I turned to the archives. Many reports reinforced what the monuments had hinted at, describing scenes of humiliation, bullying, torture, and even occasional lynchings," says Hoock, who holds Pitt's prestigious J. Carroll Amundson Chair in British History.
Hoock found it hard to reconcile what he discovered with what he had read about the American Revolution: "The magisterial accounts by the doyens of American Revolutionary history that dominate American undergraduate and graduate classrooms focus on the Revolution's ideals and downplay the physical and psychological ordeals it entailed for so many," explains Hoock. "Exploring not only American-on-American violence, but also British atrocities, rape, and prisoner abuse, Scars offers an unvarnished antidote to American 'founders' chic.'"
A native of Heidelberg, Germany, Hoock studied history, political science, and law at the Universities of Freiburg (Germany) and Cambridge (England) and earned his doctorate in modern history at Oxford University. He taught at Cambridge and the University of Liverpool, where he founded the Eighteenth-Century Worlds Research Centre in 2007. The Centre brought a half dozen different departments together with curators from the National Museums Liverpool to promote the research of life in the global 18th century across disciplines. Today the Centre continues to thrive, hosting research events, running an MA program and publication series, and facilitating international exchanges.
Hoock made the move from Liverpool to Pittsburgh in 2010, attracted not only by Pitt's well-known Amundson Chair, but also by the Department of History's innovative work in Atlantic and World history. (Pitt has been at the forefront of Atlantic History for the past 20 years, and of World History for a decade.) At the same time, he noticed the department was positioned for an era of major demographic change, marked by a large turnover of tenured faculty. Hoock saw an opportunity to build on existing strengths and develop emerging areas of excellence.
"We have formed an unusual cluster of young historians of early modern Europe and the Americas with Atlantic, imperial, and global outlooks," Hoock says, "that each are set to make a major impact in their fields. Collectively, they are poised to greatly enhance our international visibility."
Hoock is no exception. His expertise lies in 18th- and 19th-century Britain and the British Empire, as well as the history of warfare (and violence), and histories of visual culture, collecting, and archaeology. His first two books—Empires of the Imagination and The King's Artists: The Royal Academy of Arts and the Politics of British Culture—integrated histories of the state with histories of art, archaeology, and collecting.
Hoock has garnered multiple awards throughout his career. He was awarded the prestigious Philip Leverhulme Prize in History for internationally recognized young scholars in the UK. He is a fellow of the Royal Historical Society and has held numerous international fellowships, including a Kluge Fellowship at the Library of Congress; a visiting scholarship at Corpus Christi College, Oxford; and, a senior visiting fellowship at the Institute for Advanced Study in Konstanz, Germany, among others.
In September 2014 Hoock gained yet another accolade: The respected Journal of British Studies named him editor in-chief. As editor, Hoock reads 150 articles a year, exposing him to a wide range of scholarly work beyond his own areas of specialization.
"I relish the opportunity to showcase cutting-edge scholarship. We publish internationally established scholars and also offer a prominent forum for junior scholars," says Hoock, who is particularly honored to be the journal's first non-native-speaking editor.
Hoock recently returned to his home country, thanks to a visiting professorship at his alma mater. He is working with an interdisciplinary research team at the University of Freiburg in Germany on "Heroes—Heroizations—Heroisms," mentoring graduate students and postdoctoral fellows, and continuing to write Scars of Independence. He will return to the University for the fall semester.
At Pitt, Hoock brings a wide range of interests to the classroom, teaching both graduate and undergraduate courses on topics ranging from massacres in colonial and revolutionary American to polite society and culture in 18th-century England to early modern and modern European history. He particularly enjoys teaching writing-intensive courses and coaching students to reach deeper levels of understanding.
"I like to provide a setting that enables them to take intellectual risks and debate different points of view," Hoock says.
Risk-taking comes as no surprise from the man who is not afraid to take on the sentimentalized territory of the American Revolution. There is no doubt Hoock will continue to pursue scholarship that takes a much deeper look at familiar historical terrain.
"I seek to transcend nationalist narratives, with their various myths, exaggerations, and blind spots," says Hoock. "This helps us avoid the trap of categorizing either side as just victims, traitors, or cruel aggressors. The reality of wars, past or present," he explains, "is much more complex and messy than that."