Playing Outside: Dietrich School Professor Launches Institute to Measure Ecological Resilience to Infectious Diseases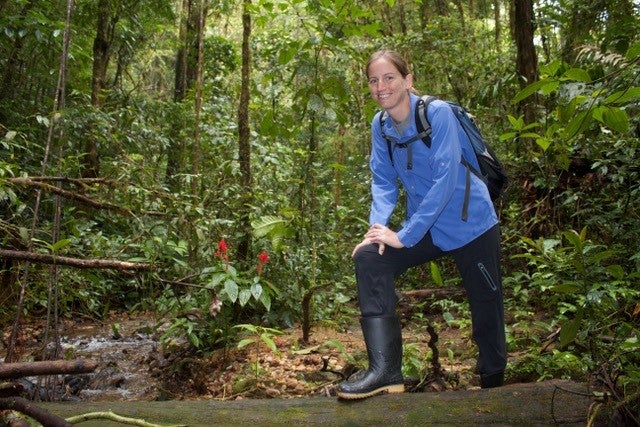 Cori Richards-Zawacki, director of the Pymatuning Laboratory of Ecology and a professor in the Dietrich School's Department of Biological Sciences, studies amphibians to understand how environmental changes affect the dynamics of ecological systems. Recently, she and collaborators launched a new Biology Integration Institute (BII) to study resilience to emerging infectious diseases.
"I approach questions about how the impacts of human activities, like climate change and the spread of wildlife diseases, shape ecological processes, and I do it in a way that explicitly considers their evolutionary implications," says Richards-Zawacki.
"I focus mainly on amphibians because their diversity provides an exciting backdrop for exploring the interplay between ecology and evolution across a wide range of spatial and temporal scales," she elaborates, adding that because amphibians are a globally threatened group, the insight gained from her group's research can be applied toward conservation.
An important element of conservation is understanding how a species or ecosystem responds to human-caused disturbances—how "resilient" a living system is. In September 2021, Richards-Zawacki and her collaborators launched a BII called RIBBiTR (Resilience Institute Bridging Biology Training and Research) to develop a framework for measuring resilience to study how biological systems can recover from emerging infectious diseases.
Explains Richards-Zawacki, "Resilience, or the ability of a system to maintain or recover functionality after a perturbation, is a concept used across diverse fields from engineering to the biological, social and socioeconomic sciences. Quantification of resilience is a dynamic and exciting research frontier and one we were excited to contribute to."
The RIBBiTR research program brings together several previously separate projects from the Richards-Zawacki lab, which has a long history of studying the impact of the chytrid fungus on amphibian communities in Panama. Roughly six years ago, the Zawacki research group began to expand this work to Western Pennsylvania to take advantage of the facilities and natural habitats here.
"Pittsburgh has a lot of natural areas for a city of its size, which makes it a great place to study urban wildlife," Richards-Zawacki says. "Pitt's biological field station, the Pymatuning Lab of Ecology, has long been a center for research on amphibian ecology also due to its situation among a number of wetland habitats in Northwestern Pennsylvania."
"Both Panama and the Pymatuning Lab will be focal field sites for our institute's research," offers Richards-Zawacki. Ultimately, the research of RIBBiTR will span study systems in Brazil, Panama, Northwest Pennsylvania and the Sierra Nevada Mountains of California.
"Because of the work our team has done in the past, the amphibian-chytridiomycosis system is an excellent model in which to evaluate how new quantitative frameworks advance our understanding of resilience," she says.
Newly launched, the RIBBiTR BII has been drawing up plans for activities within the institute. "We are forming working groups on various research, training and outreach topics and just held a team-wide kick-off meeting. We also recently hired for a few positions, including a project manager and several postdoctoral researchers," Richards-Zawacki says.
In addition to helping us understand amphibian resiliency, the BII will provide training opportunities for high school students through postdoctoral scholars. Richards-Zawacki explained that this is an important feature because it is essential to develop training programs that allow biologists to thrive in increasingly collaborative and interdisciplinary scientific fields.
"We are developing programs for high school through postdoctoral trainees because we realize the importance of tailoring our content to the distinct needs of learners at different points in academic and professional development," she says.
Richards-Zawacki indicated that at the core of all of the BII's activities will be a focus on integrative training that spans a wide range of scientific approaches and encourages students to work collaboratively. "Each activity will take advantage of best practices in STEM teaching and learning and for increasing persistence of members of underrepresented groups. Our training activities are designed to achieve synergy with the institute's research, taking advantage of student-generated data, analyses and results to advance our research objectives."
While her research takes her across the globe, Richards-Zawacki is glad she chose Pitt as a home base for her work.
"The collaborative spirit and integrative approaches that my colleagues in the Department of Biological Sciences show is what originally attracted me to Pitt," she says. "Since coming I have come to value the passion and expertise of the teaching faculty in our department, as well as the department's leadership in K-12 and community outreach. I also saw Pittsburgh as a great place to raise my children and pursue my interests outside of my career, which can be summed up succinctly as 'playing outside'… running, playing soccer, hiking, mountain biking, etc."
Whether getting outdoors for work or play, Cori Richards-Zawacki's work reminds us all to appreciate, protect and enjoy the natural world around us.